Some British school administrators recently sought to "improve" their students' Teesside dialect by urging parents to correct their children' speech. The letter prompted outcry, for reasons well-summarized by Stan Carey of Sentence First. This photo of the note in question has circulated the internet: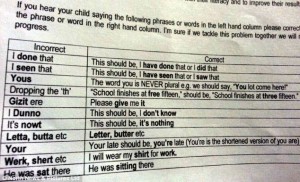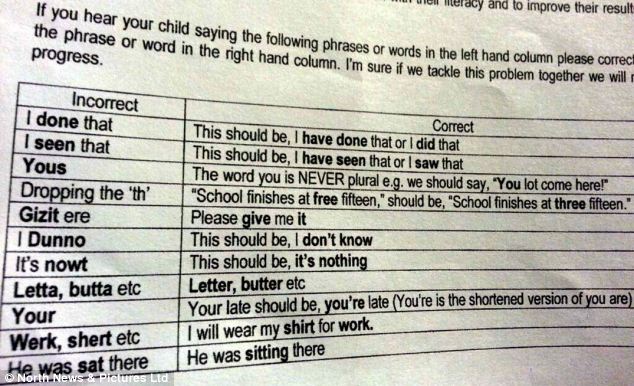 So what does the school want to correct, exactly? Dialect? Spelling? Pronunciation? True, the letter cites some actual dialect features: "Gizit here" (for "give it to me") and "nowt" (for "nothing") are obvious examples. Other "mistakes," however, involve orthographic mistakes, such as the "you're/your" quibble. At least in one case, the children's accent is taken to task, for the "mistake" of fronting "th" so that "three" sounds like "free." Needless to say, this is a very scattershot approach to language education.
I would also argue that two of the "offensive" terms are acceptable in spoken Standard English. "I dunno" is obviously just a reduced version of "I don't know," not a case of non-standard grammar. I also feel that "yous," while out of place in an academic paper perhaps, can be used in conversation without it "de-standardizing" one's language. I've heard the word used by Irish natives within otherwise academic discourse, just as I've heard "y'all" used by Standard-English-speaking American Southerners.
While I abhor prescriptivist attempts to "correct" dialects, I'm more disturbed by how muddled this attempt is. How should parents correct "letta/butta" and "werk/work?" Are these spelling mistakes? Mispronunciations? And what if one's child genuinely wishes to express that "He was sat there?" ("Someone assigned him a particular seat.")
The bottom line is, this letter seems to have been written by someone with a shallow understanding of the very language they seek to "correct."