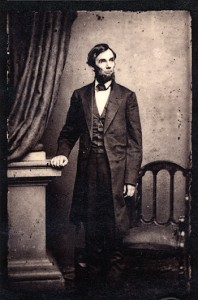 [UPDATE: Benjamin Schmidt has an excellent in-depth response in the comments which is well worth reading. He also has an FAQ on his website that answers a number of questions about his process.]
I am obviously fascinated by historical dialects and historical language in general. How did the founding fathers speak? How about Lincoln? What did a Mississippi twang sound like in the Antebellum South? Did the Puritans sound like modern East Anglians?
I was excited, then, to find historian Benjamin Schmidt's discussion of the linguistic anachronisms in Steven Spielberg's Lincoln over at the Atlantic. Unfortunately, I was left baffled by Schmidt's analysis. Take this quibble, for instance:
When Congressman Ashley frets that the amendment is "absolutely guaranteed" to lose, he's speaking in the language of late 19th-century newspaper advertisements, not mid-century politics.
I'm not sure what Schmidt is getting at here, but "absolutely guaranteed" was clearly used in government documents spanning the 19th Century. But even if it weren't, it would be less an "anachronism" than a run-of-the-mill noun phrase.
Apparently ordinary adjective phrases are also up for debate:
Same goes for priggish language: Almost no printed books use George Pendleton's phrase "highly unusual" until 1900 or so.
But there are any number of examples of the term being used in texts before the Civil War (such as this one). Again, Schmidt's gripe is so easy to prove wrong that I have to believe he's attempting to express something that I'm not grasping.
At least in one case, even a single page of Google Books results contradicts his observations:
"Peace talks," [Screenwriter Tony Kushner's] favorite, was used widely to describe negotiations involving the IRA and the PLO, but doesn't seem to have much history before Vietnam.
Except it has lots of history. "Peace talks" dates to at least the early 19th-Century (with second-hand attestations dating to the 18th), frequently used in reference to negotiations with American Indians. For instance, here is a description of Native American customs dating from 1820:
Peace is determined on and concluded by the head chief and his councilors, and "peace talks" are always addressed to them. In some cases, when the resentment of the warriors runs high, the chief and his counsellors have been much embarrassed.
It's possible history shows Lincoln didn't favor the term in this context (there were no Native Americans involved), but again, that's quite different than terming said phrase "anachronistic."
It's also worth noting that the title of Schmidt's article is "Nobody Said 'Racial Equality' in 1865: The Anachronistic English of 'Lincoln'." But in fact, people did say this in the 1860s, and in precisely the way it is meant in contemporary times. Here is a passage from a racist anthropological text from 1866, only a year after Lincoln's death:
Either the one of the other would dissipate his day-dream of racial equality within an hour of its acceptance. The inferior character of the Negro is as distinctly stamped on his organization as on his destiny, and only minds blinded by the idol of preconceived ideas could fail to see the one as well as the other…
Take what I've said here with a grain salt: several of these texts are British, not American, and I'm not debating that some of these terms may have been infrequent back in the 1860s.
But therein lies the problem. If you are going to criticize the "anachronisms" of a work of historical fiction, they should be actual anachronisms, not simply language that was "uncommon." A dramatist of Tony Kushner's talent, after all, is not in the business of writing "everyday" dialogue.