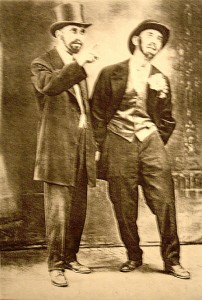 I'm going to veer off-topic today, and discuss jokes. Or rather, a joke that has swept through American pop culture for years, the allusive "that's what she said" gag.
The premise is that by inserting "that's what she said" after innocuous (but unfortunately worded) phrases, dirty associations arise. Here's an example:
Person A: How was your exam?
Person B: Easy. I thought it was going to be much longer and harder.
Person A: That's what she said!
TWSS is a fun game for linguistically-rich (if gutter-bound) minds. It requires one to be on the constant lookout for semantic ambiguity, of which our language has plenty when it comes to sex. We English-speakers eroticize the simplest words: hard, do, inside, bottom, top, come, take, in, have, job, make, blow, it, and many others. So there are infinite ways simple phrases can adopt lascivious interpretations.

The joke spiked in popularity after numerous appearances on the American version of The Office. Since I'd watched the original British version, I long assumed TWSS was an American translation of an old British music-hall-style gag employed by Ricky Gervais: "the Actress said to the Bishop." (Same gist; the phrase makes preceding words sound filthy). Hence my interest: it seemed as if the joke crossed the Atlantic to be reworked in American English.
I was very wrong in this assumption. It slipped my mind that Mike Myers used the joke in Wayne's World. This suggests another misleading etymology (uh, joke-ymology?). Myers is a Canadian comedian of British parentage with a nuanced understanding of English culture. Did he adapt this old joke for American audiences?
Apparently not. An astute Wikipedian notes that the American version is described accurately in a book from 1973. So it appears to have been around before Myers, Carrell or Gervais had anything to do with it. The question remaining is whether this is the same joke or two jokes that emerged independently.
I'm inclined toward the latter hypothesis. After searching pages upon pages of Google Books results, I have yet to find a single instance of "as the actress said to the Bishop" in American letters*. The wording is hopelessly British; we have bishops in the US, but their dominance within the Anglican ministry makes them a quintessentially English joke staple. I just don't see much potential for a crossover, so I'd guess these are similar but independently concocted gags.
Furthermore, there are jokes with a similar premise to TWSS such as the "in bed" game played while reading fortune cookie predictions ("You will encounter lasting happiness and satisfaction … in bed!"). Along similar lines, Jimmy Kimmel has a recurring bit on his show in which he "bleeps" out words from various broadcasts, lending a vulgar connotation to everyday statements. There is a whole category of humor, then, involving the moral degradation of innocent language.
Man's appetite for dirty puns is universal.
*With the exception of explicit references to "That's what she said."