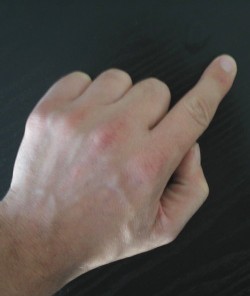 My favorite line in Tony Kushner's Angels in America is in its first scene, when a strongly-accented rabbi,  mid-eulogy, lists 'Eric' among the deceased's grandchildren. He interrupts his speech and addresses the audience: 'Eric? This is a Jewish name?'
The rabbi uses 'this' where most English speakers have 'that,' a common switcheroo in Yiddish-influenced English. Although 'that' is the 'natural-sounding' word in English, it would be hard for most people to explain why. Asked to define 'this' and 'that' sans dictionary, I'd say 'this' is the demonstrative pronoun referring to close objects, while 'that' pertains to objects far away. Simple, right?
Well, no. As the above example demonstrates (no pun intended), things become confusing with abstractions like proper names. Why is 'That's a Jewish name?' more 'correct' than 'This is a Jewish name?' (Isn't the written word within close proximity to the speaker?)
The same seems true when 'this' and 'that' are used adjectivally. In a recent Project Runway episode, Heidi Klum (who speaks English with near-native fluency), said something along the lines of, 'I like this pretty dress.' (She was referring to a piece of clothing under discussion). If Klum had said 'I liked this dress,' nothing would seem amiss. But inserting a modifier between 'this' and 'dress' sounds ever so slightly off*.
The problem here lies in in demonstratives' quirky little nuances. Take, for example, paralinguistic factors like gesticulation. Lets say I greet a friend of mine, notice she's holding a book, and it prompts the following:
Me: What are you reading?
Friend: The Great Gatsby.
Me: This is my favorite book.
At first glance, my use of 'this' instead of 'that' seems bizarre. But if I put my finger directly on the book as I exlaim 'This is my favorite book,' it makes sense.
Anyway, I'm out of my depth when it comes to this kind of thing, so if there are any English semanticists or semantics fans out there, I'd love to hear more. Why do 'this' and 'that' cause so much trouble for those whose first language isn't English? And does anyone know any 'native' English dialects that do this?
*Here's why it sounds slightly off to me: 'this' can also be used as an indefinite article, as in the sentence, 'I met this weird guy on the street today.'  Hence, there's some structural ambiguity in a sentence like 'I liked this dress'. When the object of the sentence takes an adjective, it more clearly falls into the indefinite article side of things. This is apparent when you compare 'I like this pretty dress [that I saw in the store],' which makes sense, to 'I like this pretty dress [that we've been discussing for the past twenty minutes], which doesn't.