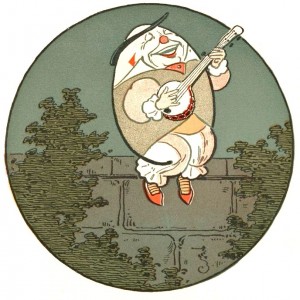 Years ago, I was in a pub discussing a subject I can't recall. A Dublin acquaintance asked a question that sounded like 'Was he in coat?'
'In coat?' Was this a dialect term I'd never heard? Did he mean 'Was he in a coat?' Is there a trend toward eliminating articles in Dublin English?
In fact, the intended question was 'was he in court?' There is a recessive trait in local Dublin English whereby some /-or/ words (such as 'court') are pronounced with the same vowel in 'coat.'* (Local Dublin is, despite the city's renown, a somewhat obscure dialect in America, so I wasn't well-acquainted with this feature at the time.)
This exemplifies a pronunciation in one accent similar to that in another accent. But are there entire sentences like this?
Such phrases might be called 'Mother goose rhymes,' after the book Mots D'Heures, Gousses, Rames, which compiles sentences that sound the same in different languages (the French title is pronounced similarly to Mother Goose Rhymes).
I tried to take a stab at thinking up some 'Mother Goose Rhymes' for English accents. Unfortunately, all I could muster were syntactically and semantically bizarre curios. For example, someone with a Chicago accent might say:
Shay locked a plywood door. Doubt her!
IPA: ʃeɪ la:kt ə plaiwʊd dɔɹ dɑɔɾ ɚ
…which might sound like someone from a rural part of the American South saying …
She liked to play. Would our daughter?
IPA: ʃɪi la:kt tə plaɪ wʊd ɒɹ dɑɒɾɚ
Someone with a Cockney accent, might say:
May thought, "awful beer what Tim pours!"
mæɪ fo:ʔ o:fo biə wəʔ tɪm po:z
…which could sound like someone from Edinburgh saying …
My photo-phobia would impose.
mæɪ fo:ʔo: fo:biə wəd ɘmpo:z
Finally, a situation where two accents are close geographically. Someone from Toronto might say:
Ideas'll capture leaders, no question.
aɪdɪəz l capʃɚ lidɚz noʊ kwɛsʧn
…while could sound like a Buffalo, NY native saying…
I dazzle cops, surely there's no question.
ai dɪəzl caps ʃɚli dɚz noʊ kwɛsʧn
(Okay, so I got a little lazy with that last one.)
This is a fun exercise, but there are many problems with the above sentences. First, these pairs only sound the same if you completely disregard prosody. (You have to forget that the '-ly' in 'surely' is never stressed.) Second, I freely admit that I'm making a half-hearted attempt at verisimilitude. In order to make these phrases sound the same, I've employed generic, exaggerated accents.
And it's here we see the difference between such experiments with languages and those with accents. The pun in the title of the aforementioned French book works because it relies on very general assumptions about the pronunciation of French and English. Accents, though, are distinguished by subtle phonetic nuances. To get 'Mother Goose Rhymes' to work, you have to rely on rather theoretical transcriptions that don't necessarily correspond to how people actually talk.
Anyone else have any good "Mother Goose Rhymes" involving two English accents? (They don't need to be long sentences.)
*A further explanation: Older accents in Dublin participate in the NORTH/FORCE split. Without getting into the details, this results in certain /or/ words being part of the GOAT set (i.e. the vowel in 'goat,' 'coat' and 'code.'). Because, unlike many other Irish accents, the vowel in GOAT has a diphthongal quality in Dublin, this results in the vaguely twangy pronunciation of 'court' previously mentioned. You'll also note that the /r/ is dropped; these words seem more conducive to non-rhoticity in strong Dublin accents.