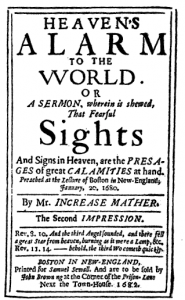 Growing up in a rural part of New England, 'wicked' was a common staple of the local vocabulary. Not 'wicked,' mind you, as in the sense of 'sinful' or 'evil.' New Englanders convert this adjective to an adverb, creating a synonym for 'very.' Relevant examples include:
That boy's wicked smart!
Or, in an appropriately New England context:
It's wicked cold outside!
The origins of this Yankee-ism are unclear. Some years back, a Bostonian friend suggested the fanciful notion that 'wicked' is a way of exorcising the demons of the Salem Witch trials. This is little more than amusing folklore (although Cotton and Increase Mather used 'wicked' in their share of sermon titles). Still, there is an old-fashioned ring to adverbial 'wicked' that prompts one to look for pre-20th-century origins.
Generally speaking, the conversion of adjectives into adverbs seems a common feature of older American speech. Take the word 'terrible.' A quick Google Books search reveals such 19th-Century uses as:
It is a terrible cold frost, and snow fell yesterday, which still remains …
I have thought it a terrible queer thing …
We had terrible hard fighting on the 13th …
If anything, 'wicked' appears to be one of the last survivors of this class in American English. (Although this trend seems to be reemerging: Note contemporary slang uses of 'crazy,' as in 'This is crazy delicious!')
Yet I can find few 19th-Century examples of 'wicked' being used this way. Certainly not in New England: I can locate no such 'wickeds' in the work of Alcott, nor in Hawthorne, nor in Melville (a New Yorker, but admissible to the New England literary pantheon on the strength of Moby Dick).
So where does this most New England of terms come from?