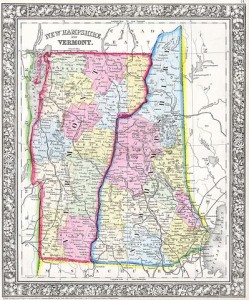 When people think of New England accents, they tend to think of the fronted /a/ in words like 'start' and 'car' (as in 'pahk yuh car in Hahvuhd yahd'). This /a/ can sound to outsiders somewhat like the 'a' in 'trap. So if a Bostonian says:
The dog's bark.
…it might sound to the uninitiated like…
The dog's back.
This fronted /a/ is also found in 'broad a' words like 'father,' 'palm' and 'Utah.' Which brings us to the topic of today's post.
As I've mentioned before, many aspects of New England speech are receding rapidly. (You hear far more r's among young people in Maine, Boston and Providence than you would have forty years ago.) A new study in American Speech, Farewell to the founders, looks at how the fronted /a/ has changed as well. And the results are slightly surprising.
A noticeable feature of New England accents is the preservation of the 'Father-Bother' split. That is to say, in most other American accents, 'Father' and 'bother' are perfect rhymes, pronounced most commonly with the unrounded ɑ (the same vowel in words like 'lot' and 'cod'). But in traditional New England accents, 'bother' tends to be a back vowel (ɒ), while 'father' has the aforementioned fronted a.
The American Speech study sampled the speech of a group of natives of the New Hampshire/Vermont border. Being located right on the traditional boundary between Eastern and Western England, it's a good place for discerning how speech has changed from one generation to the next.
The researchers, unsurprisingly, find that speakers over 60 preserve the FATHER-BOTHER split, while for younger speakers under 23, these two vowels are merged.  What this means, I'm assuming, is that 'father' is pronounced with a back vowel like many other American accents.
But here's where things get interesting: the researchers find that the vowel in words like 'start,' 'car' and 'Harvard' remains fronted among younger New Englanders. So while this group has shifted the 'broad a' in words like 'father,' this has not happened for words that end in 'r.'
Although the article is about Northern New England, I've noticed this peculiarity among young middle-class Bostonians as well. 'Car' tends to be pronounced with the rather Chicago-like [kaɹ], but you won't find the fronted vowel in words like 'Utah,' where it would stick out like a sore thumb. (Especially in words like 'Utah,' which end in /a/: I'm always startled by the traditional New England pronunciation, which sounds almost like 'you tack' with the final /k/ removed.)
Why does 'r change things? Quoth the article:
…even as young speakers are assiduously committed to avoiding salient eastern New England variants, they may "overlook" less stigmatized features. Crucially, this is likely to occur in postvocalic-r words, such as START…we suggest that the young speakers (consciously or unconsciously) have a sense that their rhotic pronunciations will sufficiently "cleanse" such words of traditional eastern variants.
In a nutshell, because these young New Englanders have converted completely* from non-rhotic to rhotic, their rhoticity in a word like 'start' might be said to 'distract' them from the fronted /a/. Does this seem plausible? Or is there another reason why young New Englander's might preserve the traditional vowel in 'start' (albeit while adding an 'r'), but not in words like 'father?'
*The word 'completely' is intentional here: the study's subjects find that, among the younger participants, they are nearly 100% rhotic.
Source: Stanford, J. N., Leddy-Cecere, T. A., & Baclawski, K. P. (2012). Farewell to the founders: Major dialect changes along the east-west New England border. American Speech, 87, 126-169.