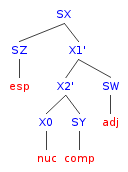 The English lexicon contains numerous nouns formed by adding the suffix '-ness' to an adjective: 'weakness,' 'fullness,' 'brightness,' and countless others. And at least in American English, we find creative new uses of '-ness' all the time, which seem to be even more ubiquitous in the digital age.
Indeed, Google is a fantastic tool for testing the sheer productivity of '-ness.' Type in nearly any word you can think of, add -ness, and it seems that someone, somewhere, has used it in a blog post or piece of popular journalism.
Of course, nobody seems to have gotten the memo that '-ness' should be affixed to adjectives. You can find such bizarre neologisms as 'bookness,' (28,500 results), 'roadness' (59,200 results), 'vaseness' (admittedly a paltry 671 results, but somebody out there thought of it), and naturally, the self-referential 'nessness' (a robust 275,000 results).
The pertinent question about -ness is why the affix is so popular where others are not. For example, '-ity' is used in a very similar way, as in 'originality,' 'duality' and 'speciality.' But where somebody might walk into a cool bookstore and exclaim 'holy bookness!' you aren't likely to hear as many uses of 'holy bookity!'
To illustrate one reason why '-ity' may be less popular, take an example of a rare productive use of -ity, in this (probable) ad-lib from Steve Carell on the American version of The Office:
Your gayness does not define you. Your Mexican-ness is what defines you, to me. And I think we should celebrate Oscar's Mexicanity.
Besides its humor value, my guess is that Carell uses 'Mexicanity' because the previously used 'Mexicanness' is awkward, phonetically-speaking. (The syllabic /n/ in Mexican is  followed by syllable-initial /n/). Less apparent from the above quote is the way that Carell pronounces the word: mɛksɪˈkænɪti, so that -can- sounds just like the word 'can.' He notable falters in trying to find the right stress pattern.
This exemplifies a major deficit of -ity: it typically changes the pronunciation of the word's base. '-Ness,' by contrast,  can be added to pretty much anything ('1982 Chevy Camaroness!') without any altered vowels, consonants or accented syllables. You don't have to think about where to put the stress in, say, 'awesome-ity' or which vowel to use in the 2nd syllable of 'Russianity' (to mirror Carell's example).
The point being, '-ness' is one heck of a productive affix. Does it have any competition? I'm thinking maybe the trend (recently identified by the American Dialect Society) of adding '-sauce,' as in 'awesomesauce.' But that seems years away from reaching, uh, 'ness' levels of productivity.