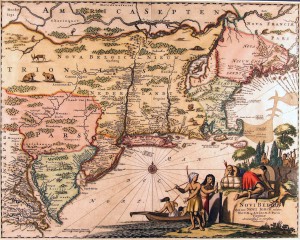 Do place names offer us any insight into the formation of dialects? In a convenient alternate universe, one would be able to make a map of the etymology of place names in America, label which nations or regions these etymologies derive from, and have a perfect visual representation of the spectrum of American dialects. This county could easily be identified as 'German-influenced,' that county as 'Irish influenced.' Easy, right?
Obviously, such a situation is in the realm of fantasy. One needs only cite French as an example of just how little many American place names correspond to the language spoken there: you'd find no Gallic influence on the local English in St. Louis, Detroit, Coeur-d'Alene, or Des Moines. Some place-namers don't stick around long enough to have a lasting impact on the local language.
The opposite is also true. There are parts of the country with place names that belie a rich linguistic tradition. Look at maps of the upper Midwest, with generic-sounding towns like 'Little Falls' and 'Alexandria,' and you find little indication of how recently German and Scandinavian languages were spoken natively by much of the population.
On the Eastern coast of the US, however, this question has some relevance. In New England, accents are often posited to bear a connection to the accents of East Anglia in the UK. And lo and behold, the largest city in the region is named after a small town near the East Coast of England (Boston)*, its county named after an East Anglian county (Suffolk), and the adjacent college town of Cambridge is named after its equally prestigious sister town in the East of England.
And yet these names are exceptional. The colonials of the Massachusetts Bay also had a penchant for naming towns after religious concepts (Salem is related to semitic words for peace like 'Shalom' and 'salaam'); surnames (Quincy, obviously); and English towns that few inhabitants were actually from (as far as I can tell, few if any of the prominent early settlers of Worcester actually had ties to the city's West Midlands namesake).
It all comes down to when a place is named, who names it, and why they choose that name. Sometimes it reflects the values and background of a real community (as in the 'Welsh tract' of Pennsylvania), while at other times it is chosen by an individual (Portland, OR was given its name based on the decision of a single wealthy businessman from Maine). How useful such names are to linguistic research can only be decided on a case-by-case basis.
*Boston is in Lincolnshire, admittedly, which is not technically East Anglia. However, it is on The Wash, one of the most important bodies of water in Norfolk, and was likely a well known port to 17th-Century East Anglians.