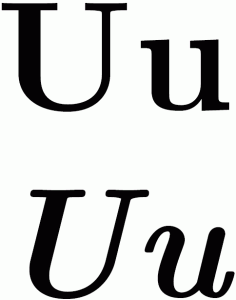 A bit of phonetics humor made its way into a recent episode of the TV show Modern Family. Gloria, a Spanish-accented character from Colombia, consistently confuses her nephew's name, 'Luke,' with the word 'look.' The misunderstanding stems from 'look' using a 'lax vowel' that the Spanish language lacks (no pun intended). But do native Spanish speakers actually hear 'Luke' as 'look?'
Lax vowels in English are difficult to explain. The two most important of these are the aforementioned 'oo' in 'look' and the 'i' in 'kit.'* On a very theoretical level, the lax 'oo' is pronounced like the 'oo' in 'goose' but with the tongue slightly more front and lower, while lax 'i' is pronounced like the 'ee' in 'fleece,' with the tongue slightly more back and lower. I use the word 'theoretical' because in reality the two vowels cover a large spectrum of possible realizations. (More on that later).
English learners can struggle with the lax vowels, since relatively languages have them. I've always wondered, then, what non-English speakers make of this unique vowel category. Does the 'i' in 'kit' sound more like an 'ee' sound or an 'e' sound to an Italian, for example? And what about the 'oo' in 'look' and 'book?'
A 2008 study published by the Acoustical Society of America** found that Russian and Spanish speakers actually can process the distinction between 'Luke' and 'look,' but do so differently from natives. Speakers of these two languages use the distinction between the relative length of the 'u' in 'Luke' compared to the relative shortness of the 'oo' in 'look.' Quite fascinating, since neither Russian nor Spanish uses length as a way of making distinctions. (Vowel length in both languages is exists primarily on the allophonic level.)
Then there is the question of languages that feature vowels similar to the lax vowels in English, but whose intrinsic 'meaning' is somewhat different. Take, for example, standard Italian. The short 'e' is arguably quite close to the 'i' in American 'kit.' (This is why, if you've ever watched Giada DeLaurentiis on the Food Network, her meticulously authentic Italian pronunciation of 'Spaghetti' sounds awfully close to 'Spaghitti.')  Would an Italian hear the American pronunciation of 'bit' as something more like 'bet?'
There are indeed accents of English that either lack one of the lax vowels, or else use a vowel that is considerably less 'lax.' Such is the case with Scottish and Northern Irish English, which merge the 'oo' in 'look' with the 'oo' in 'Luke.' I can't think of any native English dialects that outright lack the 'i' in 'kit,' on the other hand. Although in both the British Midlands and Australia one finds accents where this vowel is close to being a short version of the 'ee' in 'fleece.'
And speaking of accents, it strikes me that non-English speakers would logically perceive the lax vowels as different depending on the accent they're listening to.  Linguist Penelope Eckert has posited, for example, that in Northern California English, the 'oo' in 'look' shifts toward the 'u' in 'luck.' I can't see, then, that a Spanish speaker listening to a strongly-accented Californian would immediately see a connection between 'look' and 'Luke.'
Anyone out there whose native accent/dialect lacks short vowels? If so, how do these vowels 'sound' to you?
*You'll read about other vowels being 'lax' in English, but this is much more of a grey area.
**Kondaurova, M. V. (2008). The relationship between native allophonic experience with vowel duration and perception of the English tense/lax vowel contrast by Spanish and Russian listeners. J Acoust Soc Am, 124, 3959–3971.