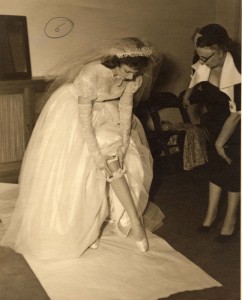 [Ed. Note: In an earlier version of this article, I suggested I pronounce 'marry,' 'merry' and 'Mary' differently.  The opposite is true.  I pronounce them alike.]
Do you pronounce 'marry,' 'merry,' and 'Mary' the same?  I do, which makes me a fairly typical American.  That being said, I represent a generation shift.  The Linguistic Atlas of New England, published in the 1930's, showed that the region I grew up in still made a distinction between these three words.  This is yet another New England dialect feature which is receding.
By the way, if you answered 'yes' to the opening question, you may not understand how these three words sound different.  In many British (and some American) accents, 'marry' (and other '-arry' words) are pronounced with the same vowel in 'cat;' 'merry,' (and other '-erry' words) are pronounced with the same vowel in 'pet;' and 'mary' (and other '-ary' words) is pronounced with the same vowel as that found in 'fair.'
As I mentioned, this three-way split is found in some American accents as well, although it's a bit mysterious as to why the accents that preserve the distinction do so.  The split can be found in Boston and New York, which might suggest the feature is related to non-rhoticity (i.e. 'r-lessness').  But the split is also found isPhiladelphia, a city where the local accent in rhotic (i.e. 'r-ful').
It's not really appropriate to call this distinction a 'split,' anyway.  Really, the more important question is why many American accents merged all three of these words into the same vowel (the vowel in 'fairy').  My only thought is that it perhaps has to do with the retroflex r common in American English (i.e. an /r/ formed with the tongue pulled back).  I find it slightly difficult to pronounce the vowel in 'cat' before this type of /r/, but that's just a personal observation.
There are also incomplete mergers.  For example, in some American dialects 'marry' is kept distinct while 'merry' and 'mary' have merged.  I also wouldn't be surprised if some people maintain the distinction only in certain words. For example, I've caught myself using the vowel in 'cat' in the word 'embarrassment,' perhaps a rare case of picking up a pronunciation common to New York City (this feature isn't stigmatized in that dialect, so you can have people maintain the distinction who otherwise have few New York accent features).
Are you an r-mergerer, or do you preserve the distinction?  And why?