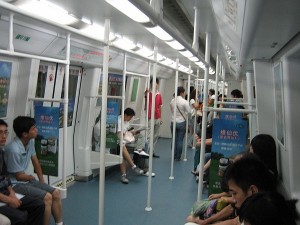 [Ed. Note:  I'm on vacation till Saturday, July 30th, so I'm publishing some old posts that I drafted but never published for various reasons.  Some of these might be a little rough around the edges.  Also note that it may be difficult for me to respond to comments.  But feel to discuss!]
I frequently use the term "vowel shift" on this site. I'd like to take a moment to explain what a vowel shift is, and more importantly, why there are so many of them in the English language.
If you're just joining us, a vowel shift happens when the vowel sounds of a particular accent (or language) move from one part of the vowel space to another. It's best to look at an example: In Chicago and other Great Lakes cities, the vowel in pot moves toward the vowel in pat. The pat vowel, in turn, moves toward the vowel in pet. Hence these vowels "shift" from one position to another.
English has many such vowel shifts. The language you're currently reading (Modern English) wouldn't exist if it weren't for a shift that occured hundreds of years ago (The Great Vowel Shift). In recent centuries, we've seen the London Vowel Shift, the Australian/New Zealand Vowel Shift, the Northern Cities (Great Lakes) Vowel Shift, the American Southern shift, the Canadian shift, and the California shift.
So why all the shifts? What is it about English that creates this game of linguistic musical chairs?
Let's start off by stating the obvious: English has a lot of vowels. A lot of vowels. This partially explains why English vowels might shift radically in a generation, while Spanish vowels have barely budged for hundreds of years.
To use a silly metaphor, imagine that Spanish is a train car with only five riders, while English is a car packed with thirteen people. The five people in the "Spanish" car are likely to remain put for the entire journey (there's so much room!) The thirteen people in the "English" car, however, tend to jostle around, move to less crowded parts of the train, make room for people as the enter, etc. Simply put, they're more likely to shift.
But how do particular vowel shifts begin in the first place? What gets the ball rolling?
There are two ways a vowel shift can be described. The first is as a "pull chain." Extending the above metaphor, imagine that a passenger on our crowded car train notices an open space a few feet down, so he moves. A second rider moves into the empty space that the first passenger left behind, then another person moves into passenger #3's space. And so on and so forth.
Turning again to the Northern Cities Vowel Shift, this would mean that the vowel in "pet" moves first. Next the vowel in "pat" shifts into the empty space left behind by "pet," then "pot" moves to the empty space left by "pat."
A "push chain," on the other hand, means the opposite: turning again to our "train," this means an obnoxious train rider pushes another rider out of the way, that rider stumbles and pushes a third person out of the way as well. In real terms, this means that "pot" moves toward the vowel in "pat," pushing it toward the vowel in "pet."
But what precipitates these shifts? That's a far greyer area. For some vowel shifts, we don't even know whether they're a "push chain" or a "pull chain" to begin with, much less the cultural factors that caused them. I've heard any number of explanations for why vowel shifts happen. The Northern Cities Vowel Shift is often attributed to 19th-century immigrant groups; the Canadian vowel shift sometimes blamed on Scottish influence. Theories abound.
I don't have many hypotheses myself. Such processes often occur for reasons too complex to be pinned down. But it's fun to speculate. Heard any theories for how vowel shifts start?