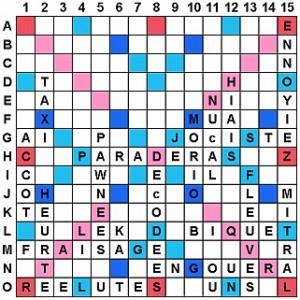 Taking a break from the lengthy posts I've been guilty of lately, I'd like to mention the big dialect news of this past week: the addition of innit to the Collins Official Scrabble Words compilation.
Innit, for those unaquainted with British dialect words, is a contraction of "isn't it" (it contracts the already contracted). Part of what offends the anti-innit crowd, I'm guessing, is that the word isn't used in a strictly grammatical way. For example, although the word is"logical" in a sentence like …
It's a gloomy day, innit?
…innit has increasingly adopted some more unusual uses. A Google search of the word, for example, reveals the following:
We're British, Innit.
She's well out of order, innit?
I was just joking, innit!
So the implicit "is" replaces any conjugation of "to be:"–was, am, are, etc–while the implicit "it" replaces any pronoun–I, he, she, they. Not such a grammatical atrocity when you think about it. It's simpler than having to remember permutations along the lines of "arnwe," "inshe," or "inni."
You can probably guess my opinion. Innit is a real word (it's in the OED), just as valid as isn't, ain't or shan't. Why is there debate about this?
The only objection I see is that innit is often used in a grammatically "wrong" manner. But people fill their sentences with far more illogical word uses: for example, the extraneous uses of "like," "right?" and "you know?" None of these words or phrases are invalidated because of it. Just because the word is used "incorrectly" doesn't mean it is incorrect in and of itself.
Of course, this being a British word, some columnist at The Guardian had to write a meandering "opinion piece" about it, with the choice quote:
From an aesthetic standpoint, however, "innit" remains an abomination.
By the way, this is an article otherwise defending the choice to include the word. Apparently we had to throw a bone to the prescriptivist crowd.  Sigh.
But I digress. You probably have some opinions, innit?