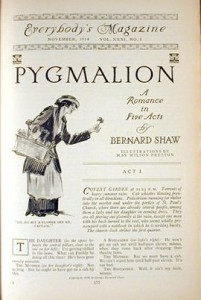 When I was in elementary school, a teacher informed me that "in England, 'bloody' is a dirty word." Even at eight years old, this sounded like an exaggeration, the linguistic equivalent of those stuffy Victorians who were shocked by ankles. How could such an innocuous word be a forbidden expletive?
I've never gotten a clear answer. As 'bloody' is used frequently in the Harry Potter books, it's clear that the word's shock value is mostly a thing of the past. But was the offense ever really that bad?
George Bernard Shaw's Pygmalion famously horrified audiences with the line "Not bloody likely." (Although to be fair, I've never actually read any substantive proof of this outrage). Many things are less horrifying now, of course, than they were in 1914. Nevertheless, Michael Quinion, of World Wide Words, implicitly suggests it may have packed some residual punch in the late 20th-Century:
George Bernard Shaw caused a sensation when his play Pygmalion was first performed in London in 1914. He had the flower girl Eliza Doolittle flounce out in Act III with the words, "Walk! Not bloody likely. I am going in a taxi". The line created an enormous fuss, with people going to the play just to hear the forbidden word, and led to the jocular euphemism not Pygmalion likely, which survived into the 1970s.
Quinion also brings up a controversy in Australia over tourist ads featuring the phrase 'So where the bloody hell are you?' (Former PM John Howard apparently took much offense.) But I would argue that the furor hardly centered on 'bloody' in and of itself. The question has a rather aggressive tenor that isn't the most inviting. I doubt you would get any less of a reaction if the slogan were 'Come on, people! Why won't you visit already??"
Obviously, It's difficult to say when profanities become more or less taboo. When did 'bloody' become innocuous enough to be uttered by the boy wizard?