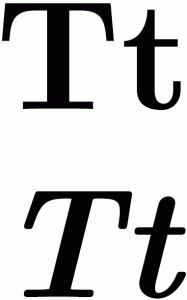 Americans like myself 'tap' the 't' in between vowels.  This means that the 't' in 'butter' is pronounced not with a /t/ sound, but rather with the 'r' consonant in Spanish 'pero.'  The common impression, though, is that 't' becomes 'd' in American accents: 'bitter' sounds like 'bidder,' 'bit off' like 'bid off,' and 'cutter' like 'cudder.'
Yet Americans have no exclusive claim to this feature.  London is known for its glottal 't' (to put that very crudely, the 't' in 'butter' becomes something of a 'grunt').  Yet it's clear that t-tapping is also common in the city, as J.C. Wells makes clear in his Accents of English:
Indeed, there is another variant which also has a strong claim to be considered 'typically Cockney,' namely the voiced tap … The use of [ɾ] appears to be connected to the rate at which the person is speaking, since [ɾ] does not occur in slow speech, in hesitation, or before pause.
This strikes me as true of several British accents*.  To cite one example: in a transcription of an Estuary English (London) speaker in the International Dialects of English Archive, the transcriptionist notes the use of a tapped or voiced 't' in the phrase 'put on.'
And in Received Pronunciation, I've observed that it's possible for the consonant to be tapped at the end of a word in rapid speech if the next word starts with a vowel (for example, in the phrase 'A bit of luck'). Wells' take on this (at least circa 1982) is that it is a matter of frequency: 'occasional' t-voicing is acceptable in RP; 'frequent' t-voicing would place an accent in the 'Near-RP' category.
So what makes American accents unique? I'll answer that by making a comparison. In London English, the tapped t is only one of a number of possibilities. The phrase 'bit off' might be pronounced (for the non-phonetically inclined, forgive the jargon):
[bɪʔ ɒf] (t is a glottal stop)
[bɪʔt ɒf] (t is a glottally reinforced /t/)
[bɪts ɒf] (t is affricated — it becomes a /ts/ sound)
[bɪɾ ɒf] (t is tapped)
[bɪt ɒf] (t is simply a /t/ sound)
… and probably a number of others. Yet of all the times I, as an American, will utter the words 'bit off' in my lifetime, I will most likely have used a tapped /t/ every single time. It doesn't matter if I'm saying the words slowly, quickly, with food in my mouth, or drunk, the tapped /t/ is almost compulsory in my accent.
So in the varieties of British English we've discussed, t-tapping is one of several options. For many Americans, however, the feature has near-exclusivity in many contexts, which is why it is so salient to people with other accents.  The question is not so much why Americans do this, but rather, why we're so consistent about it.
*There are many others, obviously, which I'm not mentioning here.  I'm focusing on accents that aren't associated with t-tapping/voicing.