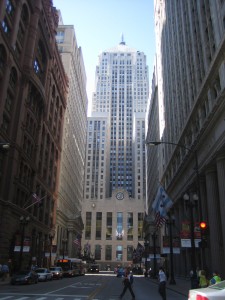 Some of the most intriguing dialect mysteries involve place names. One of the more peculiar of these head-scratchers is the local pronunciation of 'Chicago.'
The Chicago accent, being affected by the Northern Cities Vowel Shift, pronounces 'ah' words with something of a fronted or centralized 'a' vowel (IPA [a]).  To an outside ear, this can result in 'father' sounding as if it were pronounced with the vowel in 'cat.'  Naturally, one would assume that 'Chicago' would have a similar 'a.'
And yet, as any Chicagoan will tell you, the local realization of the word is 'shi-KAW-go' (i.e. [ʃɪkɔgo] or [ʃɪkɒgo]) with the vowel in 'flaw.'  Why this very notable exception?
There is nothing in the etymology of the word that explains this.  Quoth the always excellent Online Etymology Dictionary:
Named from a Canadian French form of an Algonquian word, either Fox /sheka:ko:heki "place of the wild onion," or Ojibwa shika:konk "at the skunk place" (sometimes rendered "place of the bad smell").
Both of the Native American words associated with the city don't indicate why 'aw' is found in the local pronunciation. It's probable, then, that the 'aw' derives from the intermediary French word that gave the town its name.
One possibility: 'Long a' in Quebec French is typically a back vowel (sometimes rounded and/or diphthongized) not all that dissimilar from the vowel used in the local rendering of 'Chicago.' Although the 'a' in this word shouldn't be a long vowel under French elongation rules, it's possible that the French-Canadians who adopted this word made some type of attempt to keep the lengthened 'a' of the original American Indian word.
But that's just one possibility of many. Anyone have more information on how 'Chicago' got its distinct pronunciation?