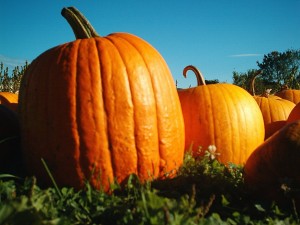 It's funny that the last post here was about free variation, as today's holiday is an example of that phenomenon in action.  Here in America, there are two distinct pronunciations of 'Halloween' that can occur in General American accents.  The first more or less treats the word as 'hollow-een,' while the latter treats it as 'hal-oween' (i.e. the first syllable sounds like Hal, the shortened version of Henry).
My impression is that the 'Hal-oween' (as in 'Prince Hal') variant is the more common of the two.  Although a quick search of Americans talking about Halloween on Youtube (we're all about scientific rigor here) revealed that the 'broad-a' pronunciation of the word is quite popular as well.  I might even suspect that it's on the rise, although I couldn't say for sure.
One could argue that HAL-oween (i.e. rhymes with 'pal') is the nominally 'correct' pronunciation, as the word 'hallow' is pronounced this way.  So where does the more exotic 'hollow-een' come from?
Perhaps the double 'l' in 'Halloween' makes its pronunciation ambiguous.  I was never confused by the pronunciation of 'Halloween' as a child, but certainly perplexed by the related 'hallowed' (I didn't grow up in a particularly religious household).  Its first four letters are 'hall,' which is normally pronounced with a broad-a or 'aw' vowel in American English. Perhaps people mistake the 'hall' in 'halloween' for similar reasons?
Happy halloween, everyone.  And to my friends and family on the East Coast, be safe on those icy roads!