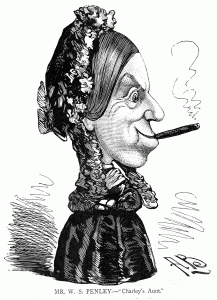 Like many New Englanders, I pronounce 'aunt' with a broad-a (i.e. the vowel in 'father'). This is one of several ways the New England accent retains a linguistic connection to its semi-namesake (for most other Americans, 'aunt' and 'ant' are homophones). Many British accents, of course, also pronounce 'aunt' with a broad-a.
Here's the problem, though. I don't have a New England accent. I speak fairly unplaceable General American English, with the slightest hint of Kentucky (my place of birth)*.  My parents, like most Americans, pronounce 'aunt' with the short-a in 'trap.' So why do I still say 'ahnt?'
Some years back, 60% of of the Connecticut respondents of the Harvard Dialect Survey stated that they pronounced 'aunt' with a 'broad' or back vowel. By contrast, slightly over 7% was attributed to New Jersey. It's a startling fact given that Connecticut is often described as divorced from the classic 'New England accent' (outside of my neck of woods, the state's rural East). So even in areas of New England that have 'lost' the accent, it seems that broad-a 'aunt' is still going strong.
It may carry even further. My wife is separated from New England by two generations, yet still uses broad-a in 'aunt.' It's possible her New England-accented grandparents passed this feature on to their children, who in turn influenced their own children.  Where other aspects of New England English are quickly receding, this one has somehow survived.
One clue as to why New Englanders may persist with broad-a 'aunt?' This gripe from a former roommate from Maine: "Why do people pronounce it like 'ant?' There's a 'u' in it!" Indeed, unlike words like 'can't,' 'bath,' or 'half,' which featured a broad-a in older New England Accents, the spelling of 'aunt' supports the pronunciation (think of other 'au' words like 'taut,' 'author,' or 'autumn'). Has orthography helped preserve this pronunciation, even as other Americans have gone over to 'ant?'
*An astute actor once described my accent as 'a Southerner trying to do a "Northern" accent,' which is fairly spot-on.