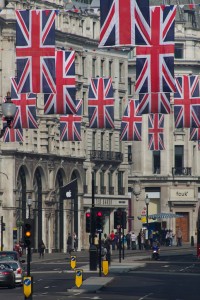 Yes, even a blog about accents needs to touch on the Royal Wedding a little bit.
I won't spill more digital ink about the wedding, nor the wedding-mania that swept America this past week. I am, however, fascinated by the standard narrative regarding William and Kate, namely that the Prince married a "commoner." Indeed, she was born into a middle-class household (albeit one that later became wealthy due to a business venture) and therefore one of the most humbly-born royals since the Earl of Wessex married the daughter of a tire salesman.
And yet, when you hear William and Kate actually speak, her accent is (to my ears) more "aristocratic sounding" than his. Look at this clip of the young couple discussing their upcoming nuptials.
Both fiancee's speak within the "Near-RP" family of accents (speech that is close to Received Pronunciation/Standard British, but with a few regionalisms or contemporary features thrown in). However, William's accent has a quite bit of Estuary English (modern London-inflected English) mixed in: his diphthong is words like KITE starts at a backer place (compare his "side" [sɒɪd] vs. her "I" [aɪ]); and his diphthong in words like GOAT is closer to Estuary as well (compare his "no" [nɜʉ] to her more genteel "know" [nəʊ]).
So, in my opinion, the Prince speaks a bit closer to the average Tom, Dick and Harry than his "common born" wife, who ironically speaks with a more, shall we say, royal-sounding accent.
What are we to make of this? I think this says several things about the radically changing attitudes toward dialect in the UK:
1.) If (probably when) William becomes monarch, he will perhaps be the first in British history to speak with an accent relatively close to how "average English people" speak.
2.) The ties between class and accent further continue to weaken in the UK. The spread of Estuary English is beginning to look at lot like the spread of General American in the mid-20th-Century US.
3.) Is it time to start ringing the death knells of Received Pronunciation?  If in a few decades we'll see a king who doesn't speak the Queen's English, then how much longer can this accent survive?
William has been criticized in the past for his "mockney" accent.  And yet I think his less-than-genteel speech is admirable:  he's remained true to himself, his generation and the Britain he's grown up in.  Perhaps the last vestiges of England's icky Edwardian ideas about dialect are finally, mercifully dying.