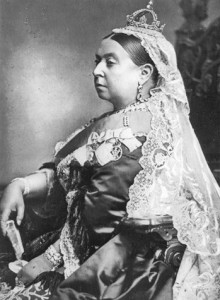 As per recent discussions of American actors doing British accents, I'd like to make an important distinction: Authentic accents vs. stage dialects*.
For about 90% of situations in which an American actor needs a British accent, that accent is probably Received Pronunciation (or Standard British). I'd say most of these circumstances center around Victorian or Edwardian playwrights: Oscar Wilde, George Bernard Shaw, Gilbert & Sullivan, not to mention any number of modern plays set during that era.
Actors use Received Pronunciation because that is what people spoke back then, right? Not quite.
Take a listen to this recording of Virginia Woolf, who grew up in the late Victorian era:
This accent, often referred to as high RP or more colloquially as the Queen's English, is quite different from what your average dialect coach teaches. The Received Pronunciation that I and other actors learned in drama school is a modern variant that became widespread after WWII.
There are, in fact, even more anachronistic uses of this accent. Restoration comedy is typically performed in RP, even though English as it was spoken during the Restoration would have have hardly sounded like modern British English.
So why do we use a modern accent for plays written a hundred (or 300) years ago? Convention.
The world of a play (or film) is not the same as the actual world. Hence the notion of stage dialects. We use slightly artificial accents because the real thing would be distracting or incomprehensible.  If we Americans watched a production of The Importance of Being Earnest with Ms. Woolf's accent, it would drive us toward the exits in about fifteen minutes.
On the other hand, there are times when I think stage dialects are taken too far. I have read the work of dialect coaches who recommend using a standard Irish accent for the plays of Seán O'Casey, which I think waters down the power of his plays. I find it absurd to use something other than a Dublin brogue for plays clearly written in the vernacular of that city.
I think there are indeed some situations where 100% authentic accents don't serve the needs of a particular play or film. On the other hand, I don't think you should discard reality entirely. It's a tricky balancing act.
*This is technically an erroneous use of the word "dialect," since the only thing you are learning is an accent (i.e. way of pronouncing words).  But "stage dialect" is nevertheless the more frequently used term among voice and dialect coaches.