This is quick reference for the Consonants of the International Phonetic Alphabet.
(For a quick guide to IPA vowel symbols, go here. And for a more detailed tutorial of the International Phonetic Alphabet, go here.)
The IPA features 58 standard consonant symbols, only a fraction of which are used in any given language. For this reason, I will not describe every consonant here. Rather, this guide defines the phrases used on the top and left-hand side of the standard IPA consonant chart: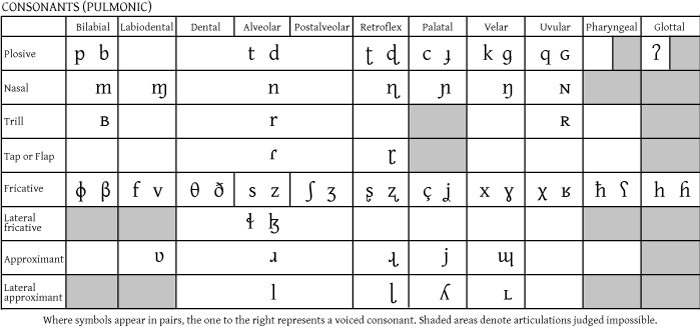 The top row of phrases on this chart refer to the Consonant positions: that is, what part of the mouth or throat is used to create the consonant. The phrases on the left side of the chart are the "manners of articulation" of those consonants: that is, the type of sound that is created.
Here are some definitions of the phrases used on this chart:
CONSONANT POSITIONS
Bilabial:  Made with the lips
English Example:  "b" in "bed"
Labiodental:  Made with the bottom lip and the top teeth
English Example:  "v" in "very"
Dental:  Made with the tip of the tongue and the top teeth
English Example:  "th" in "thing"
Alveolar:  Made with the tip of the tongue and the area just behind the top teeth
English Example:  "t" in "Tom"
Post-Alveolar:  Made with the tip of the tongue and the are just behind where the "alveolar" consonats are pronounced
English Example:  "sh" in "short"
Retroflex:  Made with the tip of the tongue curved backward behind the alveolar ridge.
English Examples:  "r" in some dialects of American English
Palatal:  Made with the tongue and the palate (see definition here)
English Examples:  "y" in "yes"
Velar:  Made with the back of the tongue and the velum (the back of the mouth).
English Examples:  "c" in "cat"
Uvular:  Made with the bac