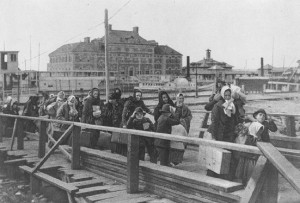 I somehow missed this NY Post piece, in which Kara Becker, a linguist at Reed College in Oregon, pens a broad overview of the long decline of the 'classic' New York City accent. It's a good read for anyone who wants to get a general look at the way that New York's distinctive accent has changed over the past few decades.
This observation is made about many cities throughout the English-speaking world: 'Cockney is disappearing,' 'the Dublin accent is disappearing,' or 'the New Orleans accent is disappearing.' But these gripes prompt a rather obvious question: just what made these accents the 'definitive (insert city here) accent' in the first place?
I think it is safe to say that for most major cities, the local dialect is primed to change, often radically, every few decades. This is one of the major exceptions I take to complaints about Cockney being supplanted by Multicultural London English, or General American usurping any number of working-class accents throughout the United States. Such events are business as usual throughout the history of English.
With that in mind, I can think of four major dialect 'events' that (perhaps) occurred to New York City accent:
1.) At some point in the 19th-Century, a type of non-rhotic, 'aristocratic' English became prestige in the city.
2.) Around the turn of the 20th-Century, millions of immigrants brought unique influences to the local speech which strengthened pre-existing features of the accent and introduced several innovations.
3.) After World War II, the spectrum of accents known as General American became common in the city due to high levels of American inmigration.
4.) In the latter half of the 20th-Century, various innovations from African-American Vernacular English entered the linguistic landscape (really a process that dates back much further, but seems most salient in recent decades).
Some of these may be debatable. Regardless, the point is that what we think of as the 'New York accent' is a type of English that was common at a particular point in the city's linguistic history (arguably 'step 2' in the list above). So why do we say 'the New York accent is dying out' and not 'the New York accent is changing?'
I think the problem here is that recorded sound has been a part of mainstream American life for a relatively short period, only about 90 years. Without being able to hear how people talked 150 years ago, laypeople have only had enough time for to make two very simple empirical observations: (a) people used to speak a certain way, and (b) we speak rather differently now.
I'm interested to know what it will be like 300 years from now, when we (hopefully) will have centuries of recorded speech at our disposal. Will we then be more aware of the changing nature of accents, rather than assuming unique speech features are perpetually 'dying out?'