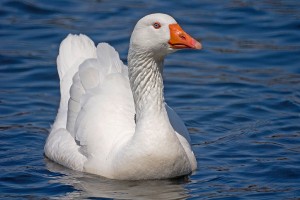 Apropos of our recent discussion of the 'oo' vowel in Multicultural London English:
The 'oo' vowel in 'goose' is undergoing a fairly remarkable worldwide shift. When we transcribe this vowel in the International Phonetic Alphabet, we typically use the symbol /u/. This denotes a vowel with the tongue high and back, and the lips rounded. But in reality, few English accents still pronounce it this way.
There are some accents of English that still realize 'oo' as a fully back vowel: the accent of my home region of New England is one, as are accents of Upper Midwestern States like Minnesota and North Dakota, not to mention some Irish brogues (particularly in the west). And there are no doubt a smattering of accents in the United Kingdom that maintain a back 'oo' as well.
But these are in the minority. In most regions of the world, this vowel is fronting (moving forward in the mouth). And while vowel shifts aren't puzzling in and of themselves, it's perplexing why this is happening on such a large scale.
The most advanced GOOSE fronting is found, arguably, in Southeast England, the American South, and the commonwealths of the Southern Hemisphere (Australia, NZ, and South Africa). In these regions, 'oo' may shift as far forward as the 'i' in 'kit' (albeit with the lips rounded) and perhaps even further. In all of these cases, 'oo' is fronted along with the /o/ in words like 'goat,' 'rode,' and 'go.' The two vowels move hand in hand.
But to a subtler degree, 'oo' is fronting in all parts of the English-speaking world.  It's noted in California English, Canadian English, Dublin English, and even in types of English once thought resistant to 'goose-fronting,' such as African American Vernacular English.
So regardless of where and how this shift is found, it is occurring on a large scale. For example, one of the things I notice about older General American accents, when compared to accents typical of my generation, is that younger GenAm speakers front 'oo' a good deal more. I'm curious to see if this process continues: will 'standard' American speech eventually feature an 'oo' vowel as fronted as it is in London?
The bigger question, of course, is why this shift is occurring in so many parts of the English-speaking world in the first place. Why has this spread so far, so quickly?