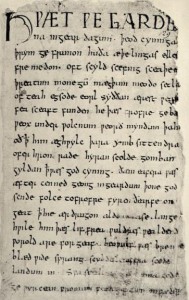 It's time for us to talk about ash.
'Ash' refers not to the product of burnt charcoal, but rather the 'short-a' vowel symbolized by æ in the International Phonetic Alphabet.  In both the British Received Pronunciation and General American dialects of English, this vowel is found in words like 'trap,' 'cat,' 'bad,' and 'knack.'  The phoneme dates back to the earliest days of the language we call English, conveniently represented by æ in the orthography of Old English.
As indicated by its symbol, ash is pronounced between the /ɛ/ in 'dress' and the /a/ in Spanish 'para.'  In English, however, ash exhibits a lot of variation, to the extent that I find it one of the most relative of vowels.  In older types of Received Pronunciation (i.e. the 'Queen's English'), for example, it was arguably closer to the 'e' vowel that modern Britons use in 'dress.'  In the trailer for the film Atonement, Keira Knightley emphasizes this feature in the line, 'Come beck to me.'  In many modern British accents, we see the opposite: ash has moved toward /a/ or sometimes toward the vowel in 'strut.'
America doesn't quite exhibit the diversity of accents and dialects that the UK does.  I've come to accept that.  In terms of ash, however, I think we have may give England a run for its money. Just take a look at the linguistic landscape. In Northern states like Wisconsin and Michigan, extreme accents may render 'fad' so that it is homophonous with British RP 'feared (i.e. IPA fɪəd).  In some Southern accents, ash may become a triphthong: 'bad' becomes 'bay-uhd' (IPA bæjəd).  In New York and Philadelphia, this vowel has split into a breathtakingly complex pair of phonemes.  Over in California, meanwhile, young people with the most advanced features of the California Vowel Shift may pronounce this with a more 'cardinal' /a/ vowel, so that 'tap' overlaps with the way many other Americans pronounce 'top' (IPA tap).
It's worth noting that in American English, ash might almost be thought of as a 'long' vowel.  For the novices out there, that means most Americans pronounce 'bad' with a vowel greater in duration that the vowel in 'bid' (or other short vowels).  One study* found that ash is, on average, pronounced longer by American English speakers than any other vowel, at least in their Midwestern sample.  This differs from many British accents, which have traditionally been thought to have a short vowel for ash.
Likewise, ash is often described as 'tenser' in American accents.  'Tenseness' is a difficult concept to describe (and subject to a lot of debate), so I'll offer myself as an example here.  In my own accent, my tongue, jaw, and lips are fairly taut and rigid when pronouncing this vowel; when I imitate someone who speaks British RP, on the other hand, I instinctually relax these muscles.  Why we Americans tend to be more laborious with ash is unclear.
Then there are the many quirks of American ash, which are too numerous to fit into one post.  There's the way Americans pronounce ash before nasals with a raised vowel, as in 'Pam' and 'pan;' the way many Westerners rhyme 'bag' with 'vague;' the way older New Englanders maintain a slight hint of the British 'bath' vowel; the way some Southerners rhyme words like 'can't with 'ain't.'  Ash is a vowel that's all over the map.
What is your ash like?
*Hillenbrand, J., Getty, L. A., Clark, M. J., & Wheeler, K. (1995). Acoustic characteristics of American English vowels. Journal of the Acoustic Society of America, 97, 3099-3111.